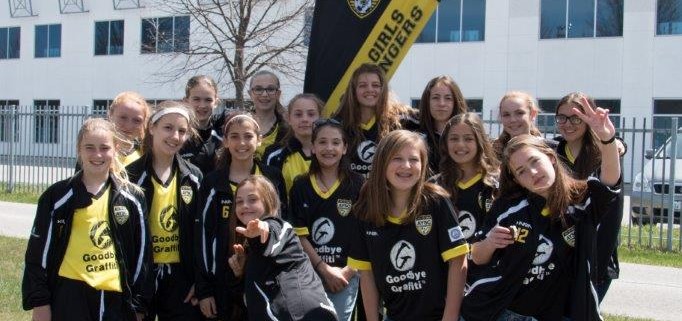 Guest Post: AURORA STINGERS 2003 GIRLS OPDL TEAM
AURORA STINGERS 2003 GIRLS OPDL TEAM – PROUD TO BE SPONSORED BY GOODBYE GRAFFITI™
As in all sports, sponsorship is an extremely important part of a team and its success. "The Girls of 2003" are in their first year of Ontario Player Development League (OPDL) soccer.  This league was created by the Ontario Soccer Association (OSA) in 2014 and is the province's first standards-based youth league that combines top level competition with strict high-performance training standards.  OPDL teams have a base level of training intensity akin to professional soccer environments – our players not only compete against the best, but train like the best.  In 2016, there are 20 teams across Ontario that have earned an OPDL license.  The OPDL is part of the Canada Soccer Pathway, a high performance stream of excellence, designed to streamline the identification process for players with a goal of representing Canada one day.
Our schedule this season includes 20 games from May 7 to October 29 – traveling all over Ontario in the East Division.  Our away games include field locations like the University of Guelph, University of Toronto and Carleton University in Ottawa.  We can't wait to get started!
The girls on this team have aspirations to play at Provincial, National, varsity and even professional levels.  The OPDL gives them the first step in achieving these goals but it is a huge time and financial commitment.  Our coaches are paid staff with National/Provincial coaching licenses and we train 3x per week from January to the end of October.   The incredible support we have from Goodbye Graffiti helps keep this level of soccer training affordable for all the players involved. 
Thank you Goodbye Graffiti!!
https://goodbyegraffiti.com/wp-content/uploads/2016/05/Team-Photo.jpg
1024
682
Goodbye Graffiti
https://goodbyegraffiti.com/wp-content/uploads/2017/10/20-year-logo.jpg
Goodbye Graffiti
2016-05-12 10:14:34
2016-05-12 10:17:45
Guest Post: AURORA STINGERS 2003 GIRLS OPDL TEAM